Selling Sunset's Cast Members Talk About What to Expect for Season 3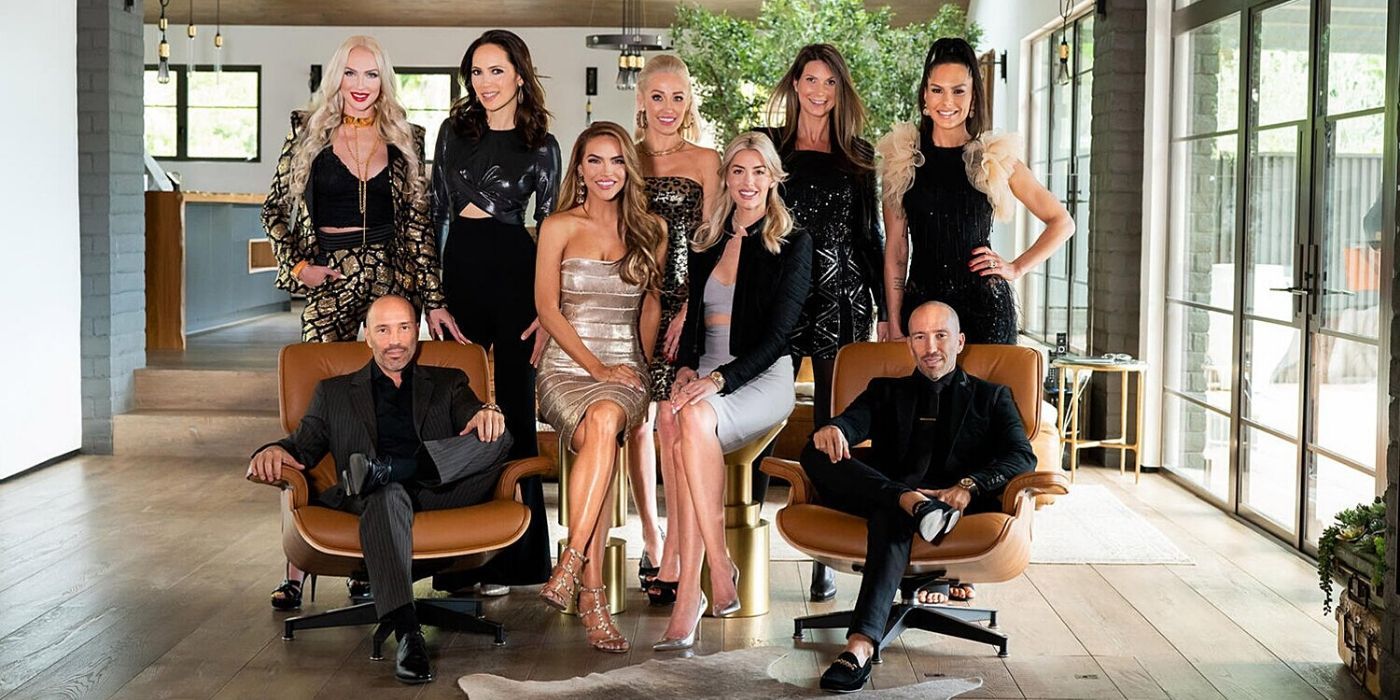 Here's what Mary Fitzgerald and Christine Quinn have to say about Selling Sunset's highly anticipated season 3, which debuts in early August.
Netflix's newest reality TV sensation, Selling Sunset is the perfect mix of luxury California listings paired with a group of Loubontion-wearing realtors. The drama is very similar to a few other addictive Cali-inspired reality TV shows, such as Laguna Beach and The Hills, which makes for perfect binge-watching television. So, when Screen Rant got the opportunity to talk with one of the leading ladies from the series, Mary Fitzgerald, we had to ask about the upcoming season. Mary was totally down to tease a few plot lines for us and, coincidentally enough, Christine Quinn made news shortly after by also revealing some juicy details. If you're a Selling Sunset fan, and don't mind a few spoilers, keep reading to hear what these two cast members have to say about what to expect for season 3.
Related: Selling Sunset: Mary Fitzgerald Hired Security Guards to Keep Wedding Drama-Free
Mary Fitzgerald tells us that Selling Sunset season 3 "amps up everything more" adding that there will be "more divorces, more weddings, and a lot more fighting and arguments." At the end of season 2, where viewers were able to witness Mary exchange vows in a swoon-worthy Parisian-inspired wedding, Selling Sunset teased a trailer for the upcoming season. In the trailer, co-star Chrisell Strause's divorce between This is Us Star, Justin Hartley seems to be a driving force for season 3's drama. Mary says she feels for her fellow cast member, saying "poor Chrishell, a lot of changes happen in the next season [including] a lot of changes in all of our relationships."
Selling Sunset is known for its gossip-fueled fights that happen between The Oppenheim Group girls, so when there's news that one of the main characters is battling a divorce in the new season, we can only imagine the drama that unfolds. Starlet and diva from Selling Sunset, Christine Quinn shared early this week with Entertainment Tonight about season 3, and says that fans are going to see Chrishell "just finding out [about the breakup]" and Christine thinks there isn't any resolution. "[It] really kind of sucks for her. But yeah, we're going to see her try to keep it together as all this is unfolding." As for changes between the cast member's friendships Christine also shared that she'd "be lying" if the show and fame "didn't bleed into [their] personal relationships." Adding that "since the cameras went on, our relationships have not been the same."
So, it definitely sounds like season 3 of Selling Sunset may feature the most drama from the series, yet. Fans will just have to wait till August 7 to see for themselves.
Next: Selling Sunset Exclusive: Christine Reveals Info About Engagement Ring
Source: Entertainment Tonight
Read more: screenrant.com